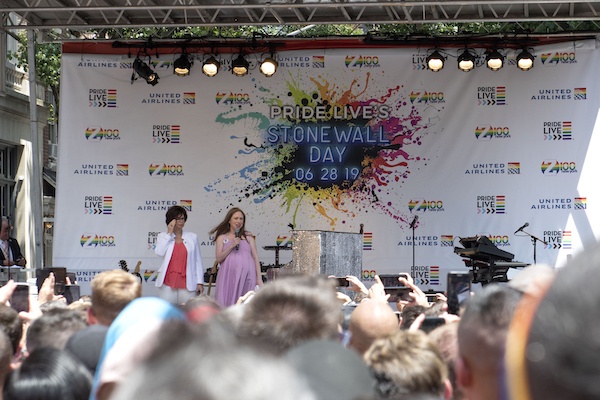 Episode #3: Stonewall50: Pride, Progress, and the Future Fight for LGBTQ+ Rights
In this episode, Chelsea Clinton speaks with Stonewall Inn co-owner, Kurt Kelly, about the history of the Stonewall Inn, the modern LGBTQ+ movement, NYPD's first formal apology for the raid, and how the Stonewall Gives Back Initiative is mobilizing LGBTQ+ communities in the United States. Plus, meet our Clinton Global Initiative University (CGI U) alum, Katie Sgarro who is helping LGBTQ+ asylum seekers find safe, immigrant-friendly services though her organization, AsylumConnect. Her CGI U commitment led to the advancement of the first online resource database of its kind in the United States.
Fifty years ago, on June 28, 1969, police raided the Stonewall Inn, a gay bar in New York City's West Village neighborhood. It was a regular occurrence meant to intimidate and harass, but this time, the patrons decided to fight back. The uprising and subsequent demonstrations that ensued drew hundreds of supporters and jumpstarted a new chapter of activism and advocacy in the fight for LGBTQ+ equality – a fight that's still going on today, half a century later.
While LGBTQ+ rights have made some progress in the United States and around the world, it is still a crime to be LGBTQ+ in 70 countries, and unsafe in countless others. Those that are forced to leave because of emotional or physical violence, seek asylum in the United States for the freedom to lead their authentic lives. CGI U alum, Katie Sgarro, is helping LGBTQ+ asylum seekers with verified LGBTQ+ and immigrant-friendly services through the first and only resource website and app.
Transcript
Chelsea Clinton:
The Stonewall Inn clearly has so much rich and important history, but can you just share a little bit about what led up to the Stonewall riots and what happened for the people who were there that night to just say, "No. No this is not okay; we're not going to take it. We're going to resist."?
Kurt Kelly:
There are a lot of stories. What happened in 1969, there isn't a lot of documentation because people didn't want to be outed, so we don't really know exactly what happened because you could lose your job back then. You could get thrown out of your family. You could even get killed. Tree, who was one of my bartenders, who's 80 years old – he was there during the riots.
Tree:
The night of the rebellion, they were after the bosses for money laundering, no licenses-
Kurt Kelly:
The Mafia bought gay bars because they knew that's where the money was because gay bars were a safe haven for people to go. When the Mafia wouldn't pay the police off that week, they would come in and harass the bars. They were tired of it. They were tired of being abused. They were tired of being harassed. They were tired of being arrested. It just all came to a head and that night, they fought back.
Tree:
When the police came in that side, my friends and I kicked the plywood door out here and we got out in the street. Outside, there was maybe 30, 40 people. Within a few hours, there was a couple of hundred people. Couple of hours later, it was close to 900 people out there. The police…
Kurt Kelly:
They all came out and they just started protesting.
Stacy Lentz:
I think there's so many myths surrounding the Stonewall Inn and what happened here. I think that regardless of if it was a brick, if it was a lesbian woman who threw the first punch, if it was a trans woman of color who took off a heel, whatever that might be, it's really about the entire community coming together and fighting back. I mean, that's really what this was. It was the first time that everyone stood up and said enough. I think that everyone was tired of being oppressed. I think the country was ripe for that at that moment because of the Vietnam War, because of the Civil Rights struggle, because of everything that was going on in terms of women's rights at that time. I think it was a just a critical, kind of explosive time in American history, and the LGBTQ people had been persecuted so much.
More importantly, this was yes, Mafia-owned, and certainly not the nicest place to have a drink in town, but it was a place where LGBTQ people could actually be themselves. They could actually slow dance together and feel safe. Our movement was launched out of the need to really protect, and wanting to have a safe, clear space.
Chelsea Clinton:
The uprising and subsequent demonstrations drew hundreds of supporters and jump-started a new chapter of activism and advocacy in the fight for LGBTQ equality, a fight that's still going on today, half a century later. While progress has been made toward full rights, respect, and equality in the last 50 years, there still is so much more work to be done. More than half of LGBTQ Americans live in states that have no explicit non-discrimination protections for employment, housing, and public accommodations. That means that people can be fired from their jobs or denied housing because of who they are, or who they love.
So why am I telling you this? Well, because we all should care about the still legal discrimination in our country and because even now, many state legislatures are promoting discriminatory laws against LGBTQ civil and human rights. The Trump administration has banned transgender Americans from serving in our military and is moving to allow adoption and foster care agencies to discriminate against potentially loving LGBTQ parents. None of this is acceptable and we have to keep working toward protecting and advancing LGBTQ rights everywhere.
Hi, I'm Chelsea. Welcome to Why Am I Telling You This, the Clinton Foundation Podcast. In each episode, we will share stories of the people, issues, and events that have shaped our work and our world. Today I'm thrilled to be joined by Kurt Kelly, owner of the Stonewall Inn, and co-founder of the Stonewall Inn Gives Back Initiative, a nonprofit that provides year-round educational, strategic, and financial assistance to grassroots organizations across the country that support LGBTQ Americans, particularly those in small cities and rural communities.
Full disclosure: I'm a proud Stonewall Ambassador.
NYPD Commissioner James O'Neill:
There are many times as the police commissioner you come across a crossroad. I feel, I am, we are at one now. I think it would be irresponsible of me as we go through World Pride Month not to speak of the events at the Stonewall Inn in June of 1969. Well, I'm certainly not going to stand up here and pretend to be an expert on what happened at Stonewall. I do know what happened should not have happened. The actions taken by the NYPD were wrong – plain and simple. The actions and the laws were discriminatory and oppressive, and for that, I apologize.
Chelsea Clinton:
We're here today, Kurt, on this pretty extraordinary moment together. What was your reaction when you heard that finally, after 50 years, the NYPD was going to actually apologize?
Kurt Kelly:
Wow. It's just amazing. I haven't even been able to really process it because I just found out about it a couple minutes ago. I think it's amazing. Fifty years ago, they were arresting us and fighting us and they blocked themselves in our bar and now, 50 years later, we're now together. A formal apology 50 years later? Wow. Do you know what? I think I was supposed to be there. That's why they wanted… Wow. I had people that were going to this meeting today, and I think you said the police commissioner… This is all starting to hit me, but I came here for you instead. That was… We were supposed to…
Chelsea Clinton:
I'm blushing. You can't see, but I'm blushing and so humbled that we're here together today.
Kurt Kelly:
One of my other partners is there and she said, "Yeah, he apologized."
Stacy Lentz:
I remember as soon as I walked out, I was like, "Kurt, they apologized." I knew he was doing a podcast with you all, so I was maybe going to catch him. I was like, "Oh my God." He was like, "Oh my God." We're both like, "Oh my God. We got to run down there!"
My name is Stacy Lentz. I'm a co-owner here at the Stonewall Inn and I actually run our nonprofit, the Stonewall Inn Gives Back Initiative. We had all been invited to have a meeting with the police, kind of talking about protections, things that need to be place in terms of policing around World Pride. For me, on a personal note, I thought it was incredible. I thought it was about time. I couldn't believe it really hadn't happened before. I think it speaks volumes about the NYPD. We have a police force in New York City that really wants to work with the LGBTQ community. I understand police across the country aren't as good as the NYPD about protecting queer people, about protecting, especially, trans women of color and investigating their deaths, about other different issues. But I think the NYPD does an excellent job and I was happy that they understood that at 50 years later, by now, that announcement needed to be made. It was very symbolic and it meant a lot to our community.
Kurt Kelly:
Everything is out the door now. But getting back to what you asked, it's goosebumps. I don't even know how to put it into words. When marriage equality happened in New York in 2011, every time anything is mentioned gay, they come to the Stonewall. This is the safe haven and it's becoming more, and more, and more as time goes on. When marriage equality went through in New York, everyone was down there. I was in the club, and it was really hot, so I had to get out for a little bit. I got out not knowing it was crowded outside, too. Standing there, was a cop and he looked over at me, and he said, "Congratulations," I go, "Thank you." He says, "If you guys need anything, you just let me know. Anything." To me, that was the first apology.
Chelsea Clinton:
That's really profound. Clearly Kurt, you have long felt connected to Stonewall, then in 2006, decided to become even more connected-
Kurt Kelly:
Right.
Chelsea Clinton:
By not only kind of buying Stonewall, but ensuring that it was this kind of vital, vibrant place. Why did you decide to buy this piece of history and to ensure that it is here forever?
Kurt Kelly:
Well, I work a couple buildings down. It was never treated the way it should have been treated. It wasn't respected the way it should have been respected. It wasn't a monument at the time, but as a historical site. It was kind of like the Liberty Bell being smashed by a hammer every day. I just wanted to bring the history back, to make it look like it should be. I think it needed that. I think the community needed that. They needed their safe haven cleaned up.
Chelsea Clinton:
Certainly now, it is such a vibrant and beautiful place. Can you just talk about some of the changes that you've made?
Kurt Kelly:
We made it look like what we thought a gay bar would look like if it was legal back then.
Stacy Lentz:
So right now, we're sitting at the Stonewall Inn. If you look around and go toward the front, there's a crowded kind of wooden bar off to the side. Then off to the other side, is a stage. Then we have an upstairs.
Kurt Kelly:
Upstairs we made it like Moulin Rouge, like Cabaret, with all purples, and black, and gold, and those chandeliers, and everything, and just make it a fun, safe haven for everyone.
Chelsea Clinton:
You talked to lots of people, I think, and got lots of ideas and suggestions.
Kurt Kelly:
Oh, yes. Yes.
Chelsea Clinton:
I think you can feel that. It feels like it is the creation of lots of people who care so intensely about this place.
Kurt Kelly:
Right, and also, my help, they're so proud. They're so proud. Every Gay Pride, they just like, are almost in tears to be working there. That shows to everyone.
Stacy Lentz:
I think on any given day at the Stonewall Inn, you never know who's going to walk through the doors, especially during Pride Month when so many people want to pay respect to what the brave men and women did in 1969.
Speaker 1:
We're at the Stonewall Inn in the West Village. Just come by to stop through, and pay homage.
Crowd:
It's just nice to be in the presence of something so historical, like a first step into digging into queer and trans history.
Speaker 2:
I just wanted to kind of experience the history because I've known so much about this place. I just wanted to kind of feel like the vibe here. You definitely feel like you can be here forever and you could just talk to anybody, be friends. [inaudible 00:10:57] Say, "Cheers!"
Crowd:
Cheers!
Speaker 2:
Happy Pride, guys!
Chelsea Clinton:
In recognition of the Stonewall riots, June is now officially LGBTQ Pride Month, marked by parades and celebrations across the country and around the world. This year, in honor of the 50th anniversary of the Stonewall riots, New York City is hosting Stonewall 50, World Pride 2019, a month-long series of events that plan to be the largest pride celebration in the world. On June 28, the Stonewall Inn will celebrate Stonewall Day to recognize and honor those who led the way and continue to advocate for LGBTQ equality.
Chelsea Clinton:
Kurt, one of the most moving things for me has been hearing you talk about some of the stories of not only what's happened at Stonewall but also how Stonewall has inspired others across the country and around the world. Are there other stories that you want to share that have been particularly meaningful to you?
Kurt Kelly:
When we bought the Stonewall, the first year there, I was in the back room and I was putting something together and this guy comes up to me. He says, "How you doing? I'm so and so from this marketing firm. And I'm just curious, how are you going to market this place?" And I go, "Well I want it to be for the lesbians, the gays, the transgender, drag, leather daddies, bears, straight allies, and even straight people if they want come and venture into a gay bar. I want it to be for everyone. I want it to be like the gay church. Safe haven for everyone to come." And he looks at me and goes, "You know what? Never happening. You're going to either make it for gay men, or lesbians." And I go, "Okay, you watch me." Look at us now.
Kurt Kelly:
It's where people come to mourn, where people come to rejoice. Pulse 43, there's people up the street, down the street, it was an amazing unified time, where everyone came together. We might bicker within the community with each other, but when something like that happens, we all come together, and they all come to the Stonewall.
Stacy Lentz:
Right off the Pulse shooting happened, it was Brooklyn Pride, we got a call around 4:00 a.m., Kurt got a call, Nadia got a call from my friends who lived in Orlando, said "Oh my God, oh my God, oh my God. Take a look at the news."
News Clip:
A shootout turned hostage situation turned into a bloodbath at Pulse, a predominantly gay nightclub in Orlando. Forty-nine dead, more than 50 needing medical attention.
Stacy Lentz:
Immediately, Kurt had some conversations as the operating owner, with the police and everything like that. I ran down here that morning and almost instantaneously there was a kind of a memorial setup front. I mean there was flowers, within hours, in front of Stonewall.
Kurt Kelly:
And everyone was coming and putting flowers out in front of the Stonewall. And they were just up the road, down the road, people were all over the place mourning.
Stacy Lentz:
And then a few days later the actual huge memorial with thousands of people out front.
Speaker 4:
The reason I'm here is because … this is so scary, this is so scary because the people who died were safe. They were safe and there's not a lot of places in this world where we get to feel safe as gay individuals and I'm just here because I can't be alone with this feeling now.
Speaker 5:
We're here to hold up the lives of those lost in this horrendous tragedy. We don't want them to have died in vain. We have to stand up, we have to speak out when there is a heinous crime like this against our community.
Speaker 6:
For a lot of reasons, I'd like to say I'm all about love, and I am, but I'm really angry.
Kurt Kelly:
The next day, I got this email from Samantha Power who was the ambassador to the UN at the time. I got an email from her, and this is all at the same time, wanting to hold a UN meeting at the Stonewall. And I said, "Sure, of course." So upstairs – you've been upstairs.
Chelsea Clinton:
I have been upstairs.
Kurt Kelly:
Upstairs, they made the tables like a "U," and 22 ambassadors throughout the world came for the first LGBTQ summit. And they had their little name tags in front of them, from what country they were, and they held a meeting upstairs. And Samantha goes to me at the very end, she goes, "Kurt, we just made history together."
Chelsea Clinton:
And you mentioned this was before it became a monument. And in 2016, President Obama designated the Stonewall National Monument outside of Stonewall.
Barack Obama:
So this week, I'm designating the Stonewall National Monument as the newest addition to America's National Park system. Stonewall will be our first national monument to tell the story of the struggle for LGBT rights. I believe our National Parks should reflect the full story of our country, the richness and diversity and uniquely American spirit that has always defined us. That we are stronger together. That out of many, we are one. That's what makes us the greatest nation on earth, and it's what we celebrate at Stonewall, for our generation, for all people-
Chelsea Clinton:
Can you talk about that moment and kind of what it's meant to be recognized officially as such an important part of our American history?
Kurt Kelly:
It's hard to explain what it feels like to accomplish something, and to be recognized and so our community's recognized by the President of the United States of America. And he went out enough to give us our own monument to say, "Yes, you're not a second-class citizen. You are a part of us."
Stacy Lentz:
For the community, it was overwhelming. When you have the leader of the free world acknowledge that your story needs to be told as part of the rest of the American story, and that it represents and will be in the same category as the Statue of Liberty. When I see the park rangers out front, I kind of get teary-eyed, that tapestry of American stories, and for us to be included in that was incredible.
Kurt Kelly:
There's a lot of pressure because we are the keepers of history. We have to keep the legacy going. We have to keep the bar going, that means finances, because if it goes under, the gay church is gone. You know so there's a lot of pressure that way. It's a lot of pressure when it comes to people, all have different stories and to keep their stories going.
Chelsea Clinton:
And can you talk a little bit about what you're doing with Stonewall Inn Gives Back and how you are trying to help people understand yes, like we've come so far and also yes, we still have so far to go.
Kurt Kelly:
Right, we're starting out in the United States in rural areas, upstate in New York, Kentucky, you know. Where you know, kids are still getting kicked out from their home when they say they're gay, when they come out. Aren't allowed to go to their proms with their significant others. They're really just not allowed to say who they love.
Stacy Lentz:
So we started having you know, hundreds – if not thousands – of fundraisers and community events. Since the onset when we opened in 2007, we had our first ever Stonewall Inn Gives Back probably circa 2008. On Tuesdays, I would pick a different charity every Tuesday, and we'd have what we call Stonewall Gives Back upstairs and at that point, I probably would get 10 people in the room, and now we're getting thousands and celebrities at events, so it's come a long way and we formalized the process two years ago, and we're very fortunate to have Chelsea Clinton come and launch that for us, and we were thrilled about that.
Stacy Lentz:
So we're really focused on grassroots organizations as well as programming, typically in the places where equality would be slow to arrive, and where people face daily stigma. On a broader scale, if you look around the country, there's 28 states where you could still be fired for being LGBTQ. So you could actually get married on a Friday, but you could still be fired on a Monday. So we've got to make sure we make that change. And those kind of places don't have the access or resources or visibility, it's typically in the Midwest, the South, Puerto Rico, places outside the coastal bubble cities where we're very fortunate to have more resources and more access and more LGBTQ family. So we're really going into those places across the country, partnering with grassroots organizations as well as doing our own programming, using the Stonewall Inn name, it's recognition as the global symbol for gay rights, to go and spread that legacy out to other places and really try to help fight and keep that legacy alive.
Kurt Kelly:
Our youth, they're forgetting that fight and what it was like to not be able to say who they love. They don't know what the guys and women did in 1969, how they felt, how they were repressed, and they fought back. And they have to know their history in order to have a future, because when that right is being taken away from you, they have to know to fight back.
Chelsea Clinton:
Well and particularly now, I mean given that we have an epidemic of trans women of color being murdered across our country, that we have administration that is banning people from the military, not because of their lack of fitness to serve, but because of who they are, and what I find just so appalling as a parent, you know denying people who have kind of love in their hearts to give, the ability to give that love to children who desperately, desperately need it.
Kurt Kelly:
Desperately.
Chelsea Clinton:
And so I couldn't you know, agree more Kurt, that we have to be aware of our history – not only to be appropriately grateful and humbled by those who fought so hard to ensure that we have kind of more rights and opportunities today but also to recognize that those fights are not done.
Stacy Lentz:
On a personal note, I will never forget 2010, 2011, I'd been at the UN for a meeting they had with LGBTQ activists from around the world, and I saw this woman speak from Uganda. And to have her give this amazing speech, and then I saw her out in front of Stonewall and we were upstairs talking and she was like, "Don't think this is weird, but you know, can I dance with you?" And I was like, "Of course you can dance with me. No, I don't think this is weird, of course you can dance with me." And she starts crying, and I'm like, "Oh my God, why are you crying?" Not understanding, and she's like, "I would be killed if I was doing this with a woman in my country. I would be murdered for this." So to have that freedom, and to see the joy on her face as she was dancing, and dancing with another woman just you know, at Stonewall, I will never forget that as long as I live.
Stacy Lentz:
The reality is that the fight that started here in 1969, it's not done. The battleground has shifted from Christopher Street to those 28 states and the 70 countries where you can still be criminalized for being LGBTQ. So we're trying to put boots on the ground in those places.
Kurt Kelly:
Stonewall to me means strength in numbers. So every time you put a boulder down, that wall gets stronger, and stronger. In our community, as long as we stick together, no one will knock down that wall. Not a politician, no administration. So we can create that wall, we keep that wall together.
Chelsea Clinton:
Amen.
Chelsea Clinton:
Kurt, thank you so much.
Kurt Kelly:
No, thank you.
Chelsea Clinton:
I mean for your time today, and even more for everything that you're doing.
Kurt Kelly:
That's the same with you.
Chelsea Clinton:
It's still a crime to be LGBTQ in 70 countries around the world, and it is unsafe in many more.
Speaker 7:
The anti-homosexuality bill was passed in December after years of discussion.
Speaker 8:
Homosexuality is a crime in 38 African countries, and new laws in Nigeria and Uganda have increased potential punishments for those charged.
Chelsea Clinton:
Some LGBTQ people who are forced to leave for their safety, or their very lives, seek asylum in the United States.
Speaker 9:
To escape persecution, some gay and transgender Africans have come to the United States to seek asylum. For those from Uganda, fleeing their country is a matter of life and death.
Chelsea Clinton:
I'm grateful to be joined by our next guest, Katie Sgarro, who's helping LGBTQ asylum seekers in the U.S. find safe resources through AsylumConnect, an organization, website, and mobile application, she started while in college, and one she committed to scale when she came to our Clinton Global Initiative University.
Chelsea Clinton:
Katie, tell us about AsylumConnect. What is it, and why is it important?
Katie Sgarro:
Yeah, so the premise of AsylumConnect is that there really should never be a moment when someone doesn't know where it's safe to go for help due to their LGBTQ identity or immigration status. LGBTQ asylum-seekers face unique obstacles due to their LGBTQ identity. You often face homophobia or transphobia when accessing social services.
So, if you think about an LGBTQ asylum-seeker who's arriving in this country, oftentimes they're arriving alone. They don't have any sort of information about where it's safe to go for all of their basic human needs. So we created basically a digital one-stop shop where an LGBTQ asylum-seeker can access a free resource database that protects their confidentiality, and they can enter their location as well as search for verified services. Whether they're looking for LGBTQ-affirming and immigrant-friendly housing or legal help or medical help, all of that information is available in a one-stop location.
Chelsea Clinton:
And how do asylum-seekers find AsylumConnect, or how do you find the people that you are trying to help both protect and connect?
One of the things that actually surprised me, my cofounder is an LGBTQ asylum-seeker himself, so when he came to me with the initial idea, that was my first question, do LGBTQ asylum-seekers have access to technology? And in the short answer, many people do. They have mobile devices. They go to public computers. They see technology as a lifeline.
Similarly, immigration attorneys and corporate attorneys and law students working on pro bono cases can also pull that information from our website quickly and easily. If you think about a corporate attorney who doesn't have the expertise in immigration law or may not have the expertise in the LGBTQ field, and also is short on time, but their LGBTQ asylum-seeker client is coming to them and asking for basic information on local social services so that they can literally survive their asylum process, that's what AsylumConnect answers. We're really filling a really tangible information gap that we believe just shouldn't exist.
Chelsea Clinton:
How did you decide to focus on this issue? What was it about this injustice that so galvanized you?
Katie Sgarro:
It's definitely really, really personal to me. I think, given my age, there is this expectation that being LGBTQ maybe is easy in this country. I think a lot of people don't know that LGBTQ people still in this country lack basic protections. For instance, that's why the Equality Act is so important. And from the LGBTQ asylum perspective, to think about fleeing everything due to ant-LGBTQ violence and then coming to a country where you actually don't have those basic legal protections is really, I think, jarring.
Especially for me, I had struggled with my sexual orientation for a very long time, grew up in more conservative households. I co-founded AsylumConnect when I was a senior at the University of Pennsylvania. My friend, as I mentioned, came to me with that initial idea, born out of his personal experience seeking LGBTQ asylum.
He was one of the first people that I told I was gay to. I actually wasn't out when I first co-founded AsylumConnect. And being closeted, I think there's a certain despair or sadness in terms of not knowing when you'll be able to live authentically. It doesn't feel like you're really in your life. It's almost like you're waiting for something.
I think for me – I knew I was gay since I was 11. I didn't come out until I was 22, so I've been out for four years now. And I can tell you it's like black and white. There's so much difference. I think you're so much more comfortable with yourself. And I think for me, that experience definitely… it's the driving force of why I care about AsylumConnect, because I do know what that feels like, and I don't want anyone else to go through that.
Chelsea Clinton:
How have you seen the work of AsylumConnect change in the five years since you founded it? Are you doing today what you thought you'd be doing five years ago?
Katie Sgarro:
Yes and no. I think we accomplished our initial goal of creating the first-only resource database for LGBTQ asylum. But I don't think I could have imagined the depth that AsylumConnect has been able to cover. When we first started, we piloted our resource website and app in Seattle. Fast forward today, and we're live in 20 states, and we've seen such a growth in terms of user traffic, people that are supporting us.
I think just the need has been so clarified, especially in the current administration. I think doing this today, it's so much more important because LGBTQ asylum-seekers are being targeted by this administration.
Speaker 10:
President Donald Trump responded with a plan to tighten asylum standards and discourage border arrivals.
Speaker 11:
The review of more than 8,400 reports of solitary confinement in ICE detention found immigration officers repeatedly used isolation cells to punish gay, transgender, and disabled immigrants for their identities.
Chelsea Clinton:
So today, after five years of tremendous growth, sadly, I mean thankfully, but sadly, in response to tremendous need, what is the next horizon for AsylumConnect?
Katie Sgarro:
We actually launched a new version of our resource database in Canada last week directly as a response to this current administration and the fact that we have gotten more social media messages and emails from LGBTQ asylum-seekers and attorneys in Canada, because more and more persecuted LGBTQ people are looking to Canada now as a beacon of hope instead of the United States, sadly. I bring that up because we are looking at Western Europe now, expanding our catalog over there. We do hope that the United States will continue to be a beacon of hope, and it's definitely very needed in this country, but I think international expansion is also something that we're working towards.
We're also trying to expand our services by offering our second product. We're actually creating something called AsylumConnect Community, which will add new moderated online forums for LGBTQ asylum to our resource website and app. LGBTQ asylum is a very emotional, complex, and traumatic process. So we think that connecting people in basically a virtual safe place will have so much value, and not just offering verified information, but also a sense of community is so important and central in our mission, especially today.
Chelsea Clinton:
Katie, what do you need right now, and how can people help you in a really practical and immediate sense if they want to engage with AsylumConnect?
Katie Sgarro:
I think one really tangible thing that people can do, if you do know of a resource that you think is immigrant-friendly, you can suggest it on our website. Actually, we're looking for people to help us build this out nationally. As I mentioned, we're live in 20 states, but we want to be live in at least half the country by the end of this year, especially given the urgency of this cause.
Then if you're a lawyer or an organization that's working with this population, you can claim your organization's profile on our website and app to take agency over the profile and make sure that the services are as up-to-date and that information stays accurate over time.
And then definitely financial resources. As a nonprofit, we depend on generous grants and individual contributions to make our work possible and to make sure that the technology and information is as accurate as possible.
Chelsea Clinton:
Katie, I know this is now the work that you do, but how many people are at AsylumConnect?
Katie Sgarro:
I am the co-founder and first full-time executive director of AsylumConnect, but it's definitely only been possible through all of our volunteers. Right now, we have 27 volunteers dedicating their time, and just really, really passionate about this issue.
One of my favorite things about the team is not just that they're dedicating their time, but also they represent diversity of sexual orientations, gender identities, immigration statuses. These are people with such personal ties to what we're doing and also such important perspective. It's so important in terms of building trust with our users to see people publicly on our website, and also supporting our work, telling the story. It's just so much credibility. So I think having them sign on to our cause and having their support throughout this entire process has been extremely pivotal to our work.
Chelsea Clinton:
I think that that is a testament to people understanding why this is so urgent, and yet it is clearly remarkable how much you've done with your army of volunteers.
Katie Sgarro:
Yeah, we're definitely lucky to have them.
Chelsea Clinton:
And we're all lucky to have you, Katie. Thank you so much for taking your time to share your work, and even more, thank you for all you're doing every day with AsylumConnect.
Katie Sgarro:
Yeah, thank you so much for your support.
Chelsea Clinton:
Thanks for listening. For more, subscribe for free on Apple Podcasts or wherever you get your podcasts.
To learn more about our work to improve lives across the country and around the world, visit clintonfoundation.org.
Megan Strawther:
Hi, I'm Megan Strawther. Here at the Clinton Foundation, I'm part of the team that's engaging the next generation of leaders on college campuses around the world. Each year, we bring together a growing community of young leaders who don't just discuss global challenges; they take real, concrete steps towards solving them. From manufacturing wheelchairs for developing countries to establishing campus bike share programs, from creating free vision clinics to developing e-learning applications for mobile phones, these commitments prove that young people have the power to make a significant impact.
Chelsea Clinton:
Next on Why Am I Telling You This?
President Clinton:
We the people. That becomes the responsibility of the president, to work for we the people and forming a more perfect union. So to do that, every single president from George Washington to Donald Trump, consciously or not, has had to define what more perfect union means. I think the best presidents have sought to define we the people in a way that broadens both the idea and the reality of who counts in this country.
As president, my often-stated definition of making our union more perfect was this. I thought my job was to widen the circle of opportunity, to deepen the meaning of freedom, and to strengthen the bonds of our community. If we do our part, chances are we'll get a president, he, and I hope to God someday she, who certainly will do the same.